THE IMPACT OF YOUR INVESTMENT: How Nonprofits Spend Your Money
Be it through your direct donations or indirectly through the United Way, foundations and government funding, we all have an interest in how nonprofits spend our money.
One of the services Tempe Community Council (TCC) is most proud to provide is the annual "Agency Review" (AR) process. This yearly event brings in a large group of diverse and dedicated volunteers who review grant applications, conduct interviews, and make funding recommendations to the Tempe City Council. This fair and unbiased process ensures that the community is directly involved in the disbursement of public funds.
In March 2013, 48 volunteers completed AR for the 2013/14 fiscal year. This resulted in 26 agencies (see the full list here) receiving funds from the City of Tempe to help support over *94,000 clients in the Tempe area. These agencies are supported and monitored throughout the year by the TCC Board of Directors and staff.  Data is collected and compiled regularly through an online reporting system developed by the Valley of the Sun United Way. This system allows TCC to track the impact of your dollars.
The chart (Chart 1) below illustrates how the 26 nonprofits, partially funded by the City of Tempe, budgeted to spend their total agency revenue in four major categories during the past three fiscal years:  2010/11 through 2012/13. These budgets totaled over $303 million for the 2012/13 fiscal year and range from $89,800 to $42,853,855 in annual budgets.
Chart 1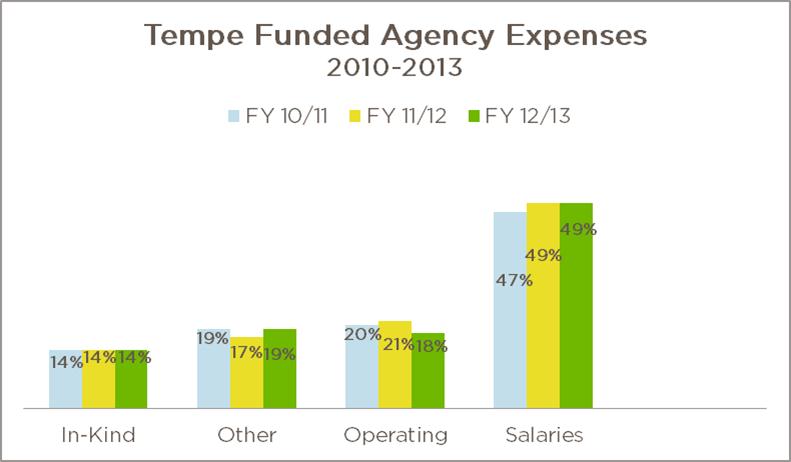 This demonstrates that the proportions in these four categories (In-Kind, Non-Personnel/Operating, Other Expense, Salaries/Benefits) remained fairly stable over the three year period.
Chart 2 illustrates a more detailed look at the Operating Expenses for the 26 funded agencies (percentages of total Operating Expenses, not of Total Agency Expenses):
Chart 2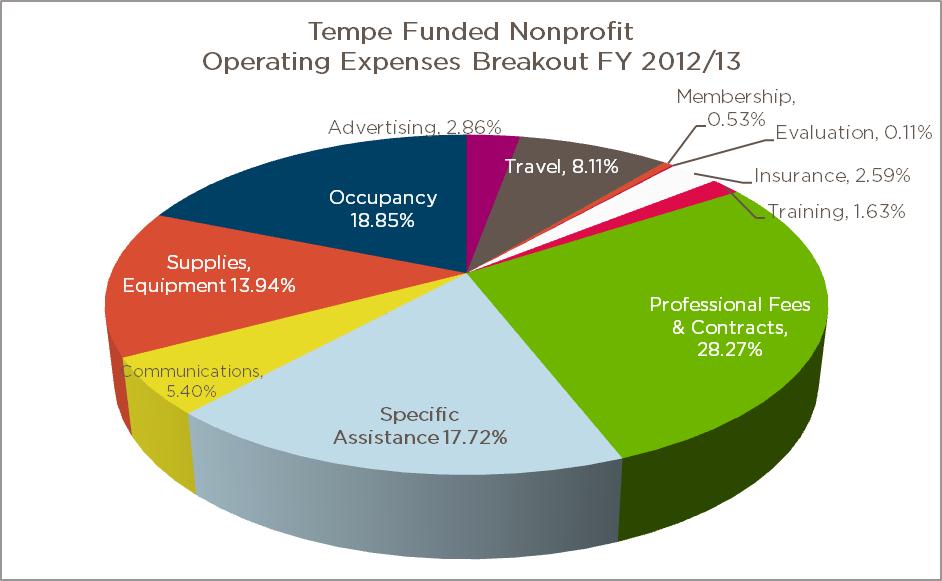 Occupancy (rent, utilities, building and grounds) is one of the largest categories (nearly 19%). Specific Assistance for Individuals; Professional Fees and Contracts; and Supplies/Equipment/Rental Maintenance total almost 60% and reflects that many nonprofits often staff with temporary or periodic personnel to keep up with the high demand for services.
*Data is directly captured from agencies, and may include repeat clients based on the service/s provided.  Please email Caterina Mena with questions.
Diversified Funds
Nonprofits supported by the City of Tempe through TCC's AR process each have diverse sources of revenue.
Broken down in broad categories, nearly 62% of revenue came from government funding, and close to 9% from fundraising efforts in the 2012/13 fiscal year. The remaining 29% was from other sources, including program fees at 4.4%.
All About Leverage
TCC's partnership with the City of Tempe allows the leverage of millions of dollars for those most in need in our community. In fiscal year 2012/13, the City of Tempe funded just under $1 million in proportion to the overall funding for the programs operating to help vulnerable Tempeans (Chart 3).
Our investment of approximately $1 million leverages over $67 million in human service program staff, experience and resources to help those in need in Tempe. That means that for every $1 invested, an additional $67.11 is available to programs so that Tempeans can improve their situation and stabilize their lives!
Chart 3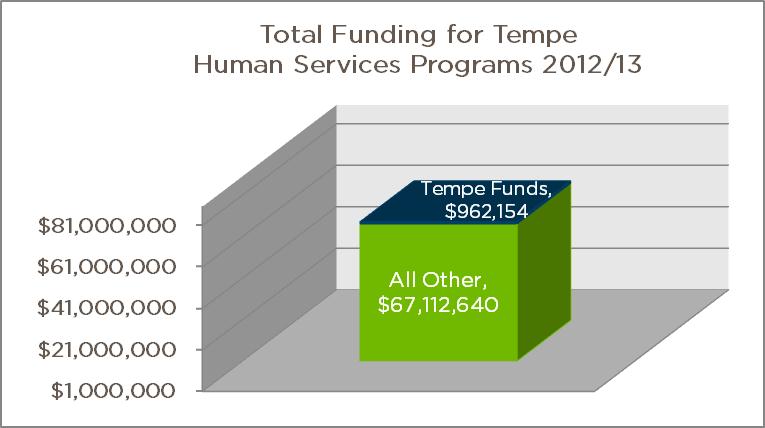 People Helping People
It is important to remember what is really behind these facts and figures.
Human service programs are essentially about people helping people in need. Whether it is someone utilizing their professional expertise in counseling, case management or mentoring, or providing a service or product (like rental assistance or food boxes), these employees dedicate their professional lives to helping individuals and families in need.
These caring professionals provide stability and hope to people when they need it most.
We thank all our nonprofit service providers and professional staff for sharing your skills and working tirelessly to help make this a better community for all of us.  
Thank YOU for your investment in our community!