giving help to others
The character of any community is defined by the connectivity of its members – neighbors who work together toward a better place for families, youth and seniors. Together we can provide help and hope to others.
Because we are Tempe.

Donate to Help a Neighbor in Need
Together Tempe, formerly known as Help to Others, was created in 1999 to provide Tempe residents the opportunity to easily contribute to their community. Together Tempe  is a voluntary, tax-deductible donation that is distributed to local nonprofit organizations serving Tempeans in need. In the past 17 years, over $845,000 helped provide vital services to children in crisis, homebound seniors, homeless teens and families in need. Every dollar raised (100%) supports youth and senior programs and helps provide a better community for everyone.
Together Tempe is a partnership between the City of Tempe and Tempe Community Council making it easy for Tempe water customers to donate a $1 or more per month through their utility bill to help neighbors in need.  If you would like to contribute to Together Tempe, there are several ways you can give:
♦ Donate online and give a one-time gift or set-up a recurring gift through TCC.
♦ Pay the extra $1.00 voluntary donation amount listed on your City of Tempe utility bill each month.
♦ Set-up a larger donation amount on your City of Tempe water bill (Surepay customers only)
by calling (480) 350-8361 or visit the City of Tempe Water Utility Department,
located at 20 E. Sixth Street, Tempe, AZ 85281. Google Map.
Your Gifts at Work: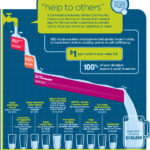 Programs for Youth and Seniors were funded across a system that assists individuals, seniors, families and children that are facing crisis, to move from the crisis experience to stability, and continue on to self-sufficiency without slipping back into crisis.
2016/17 Funded Programs
Tumbleweed, Teen Youth Resource Center (TYRC)
The TYRC's main objective is to provide the opportunities and tools necessary for each young person to have the ability to transition from the streets to stable housing.
Tempe Community Council, Open Horizons
Open Horizons Teen Parent Scholarship Program is a dropout prevention program for teens that have given birth and want to continue attending school.
Association for Supportive Child Care
Phone Friend
Boys & Girls Clubs of the East Valley
North Tempe Youth & Teens
This program provides "a safe place for young people (remove them from potentially unsafe or crisis situations) and offers programs in three priority outcome areas:" Academic Success, Good Character & Citizenship, and Healthy Lifestyles.
Teen Services at Ladmo Branch
This program provides "a safe place for young people (remove them from potentially unsafe or crisis situations) and offer programs in three priority outcome areas:"  Academic Success, Good Character & Citizenship, and Healthy Lifestyles.
Child Crisis Arizona
Emergency Shelter Program, Family Resource Center
This program helps "parents learn how to provide safe, healthy environments for their children and to stop child abuse and neglect before it begins."
Foster Care and Adoption
This program recruits, trains, licenses/certifies and monitors foster and adoptive homes (resource homes) for foster children from Maricopa County.
EMPACT – Suicide Prevention Center
Building Resiliency in Youth
This program uses curriculum for "a school-based primary prevention program that offers practical skills for helping children learn how to think through and resolve everyday conflicts."
Girl Scouts – Arizona Pine Council
Social Like Us
These prevention and early-intervention programs are aimed at breaking the intergenerational cycles of abuse, poverty and crime, and offer a range of services to girls living in housing projects or homeless shelters, and girls involved in the juvenile justice systems.
Best Buddies
School Friendship Program –  Building one-to-one friendships between students with and without intellectual and developmental disabilities (IDD), offering social mentoring while improving the quality of life and level of inclusion for a population that is often isolated and excluded.
Junior Achievement
Financial Literacy
Tempe Family YMCA
Youth & Government Program
Area Agency on Aging
In Home Services
Partnering with East Valley Adult Resources "to provide non-medical home care and support services to frail elderly and adults with disabilities to enable them to live independently in their own home for as long as possible."
Benefits Assistance Program
This program exists to assist Medicare beneficiaries and the general public in making informed decision about their enrollment options. In the News!
East Valley Adult Resources
East Valley RSVP
This program "recruits and places volunteers age 55+ in nonprofit, governmental and proprietary health care facilities meeting critical community needs in the City of Tempe."
Tempe Neighbors Helping Neighbors
Aging in Place Services
This program provides an opportunity for a variety of services and needs of aging adults in Tempe.
Valley Center for the Deaf
Transportation for Low Income Deaf Seniors
Frequently Asked Questions:
Q: How can I participate?
A: A voluntary donation of $1 is listed on your monthly water bill. Simply pay the Total + Voluntary Donation OR set up a recurring "pledge" gift or make an immediate donation online for any amount.
Q: What if I do not want to make a $1 donation?
A: Simply pay the sum on your water bill, titled Utility Amount Due.
Q: Who receives the donations?
A: All donated funds go directly to nonprofit agencies that help Tempe residents in need.
Q: Is my donation tax deductible?
A: Yes, for tax purposes you will receive a year-end total of your donations in the January utility bill.
Q: Do I have to sign-up or fill out a pledge card to donate?
A: No, just pay the Total + Voluntary Donation on your bill or you can give online by clicking the "Make a Donation" link on the top of this page.
Q: Doesn't the City fund human service programs?
A: Yes, but in these budget-strapped times, need for services is far greater than what the City of Tempe can provide.
Q: How can I get more information?
A: For more information on the water bill portion of the program, please call Tempe's Customer Service Department at 480.350.8361 . For more information on human service programs funded by Help to Others, please call the Tempe Community Council at (480) 858-2300 or contact us here.