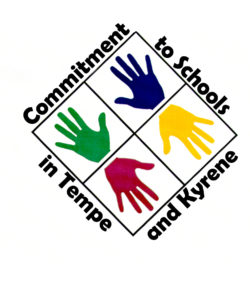 View our photos on facebook from the Annual C2S Breakfast as we celebrate another successful year!  
Activities
Commitment to Schools in Tempe & Kyrene (C2S)  serves as a broker of services to local public schools. We assist with identifying the needs of individual schools and locate existing community resources to help address those needs. Funds raised by the board are used to sponsor some of these services: Early Literacy, Counseling, Parent Outreach & Education, Pre-school Readiness, Health and Wellness, and Family Resource Centers.
News
Keep up-to-date with the C2S blog!
Thrive to Five class schedule available at www.thrivetofive.org
Mission
The mission of Commitment to Schools in Tempe and Kyrene is to surround students with a community of support, empowering them to stay in school and achieve in life.
Vision
Students in Tempe and Kyrene will complete school and be prepared for success as an adult.
Our Philosophy
The philosophy of C2S is to coordinate efforts through the cooperation of individuals, organizations and service providers, whose focus is to ensure that every child has an opportunity to experience success.
Our community includes families, neighbors, friends, associations, churches, media, youth organizations, businesses, and public institutions who help us accomplish our goal on behalf of students.
Approach
Operating under the umbrella of the Tempe Community Council, a 501(c)(3) organization, C2S coordinates community resources at the school site, or in an accessible location.
We serve families in the Tempe and Kyrene school districts through a collaboration with leaders in education, business, social service, and government.
Our dedicated Board represents all sectors of the community who are committed to assuring that a full range of medical, social, recreational, and educational services are available as identified through our school and community partnerships.