Tempe Mayor's Disability Awards
recognizing ability, advocacy, access and achievements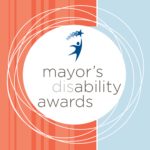 Since 1988 Tempe Community Council and the City of Tempe have proudly sponsored the Tempe Mayor's Disability Awards. These awards honor exceptional individuals with disabilities  employers of individuals with disabilities and others who have shown dedication to the disability sector and a commitment to improving the quality of life for all of Tempe's residents.
It is hoped this annual event will inspire others to emulate the honorees and provide a fully accessible Tempe for everyone. Thank you to everyone who was a part of this special event and honored the people who make Tempe great.
Register/Sponsor
Join us for this year's event:
Mayor's Disability Awards 2014
Monday, April 28, 2014
3:30-5:30pm
Tempe History Museum
809 E. Southern Avenue, Tempe

Congratulations to the 2014 Awardees!

Outstanding WorkBridge Student Employees
These awards are for students with disabilities, enrolled in the Tempe Union High School District, who have shown exceptional dedication and performance as employees/volunteers through the WorkBridge progam.
Paola Garcia, Marcos de Niza High School
Michael Gonzales, Compadre High School
Patricia Montanez, Mountain Pointe High School
Marciella Munoz, Tempe High School
Eric Papke, Mountain Pointe High School
Outstanding WorkBridge Employer of Students
Gold Medal Gymnastics, Mr. Brad Cochran
Youth Ability Award
Vail Varone
Adult Ability Award
David Carey
Architectural Accessibility
Erich Schwenker, Cardinal Capital Management, Inc.
Valued Community Service
The Centers for Habilitation
Pride of the City
Pat Little-Upah
2014 Event Sponsors – THANK YOU!
Robert Kizere & "Colby"
       – in loving memory of Beth Maureen Kizere
Irene and Lynn Mochel
Tempe Diablos (Scholarships)
Tempe History Museum