Tempe Mayor's Disability Awards
recognizing ability, advocacy, access and achievements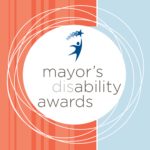 Since 1988 Tempe Community Council and the City of Tempe have proudly sponsored the Tempe Mayor's Disability Awards. These awards honor exceptional individuals with disabilities  employers of individuals with disabilities and others who have shown dedication to the disability sector and a commitment to improving the quality of life for all of Tempe's residents.
It is hoped this annual event will inspire others to emulate the honorees and provide a fully accessible Tempe for everyone. Thank you to everyone who was a part of this special event and honored the people who make Tempe great.
2014 Nomination Form
Congratulations to the 2013 Winners!
Outstanding WorkBridge Student Employees
These awards are for students with disabilities, enrolled in the Tempe Union High School District, who have shown exceptional dedication and performance as employees/volunteers through the WorkBridge progam.
Kim Adams, Marcos de Niza
David Dyster, Corona del Sol
Nicole Eakins, Mountain Pointe
Matthew Herbert, Desert Vista
Stefany Montes, Tempe High
Kelly Parkes, Tempe High
Amanda Ratzken, McClintock High
David Swanson, Tempe High
Youth Ability Award
Christopher "Cal" Lawrence
Adult Ability Award
Robert Kizere
Exceptional Educator
Ted Telepak
Business Leadership Award
Medtronic
Architectural Accessibility
Peter Fischer
Valued Community Service
Don Price
Pride of the City
Monica Attridge