Agency Review
 
Volunteer Info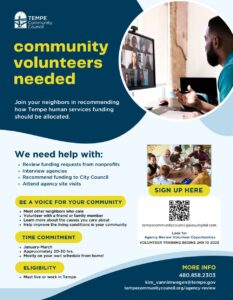 Help us support our mission.  TCC is seeking volunteers interested in participating in this review process.
The time commitment includes three to four days over a three-month time period (January-March) in addition to proposal reading time. Agency Review is a valuable experience which provides a unique perspective on the needs of our community. Consider being a part of this community process.
If you are interested in participating in this volunteer experience and live or work in Tempe, please sign up through our Volunteer Portal  (after registering, please "FAN" the Community Impact page).
Information Packet for Volunteers >
Volunteer Timeline >
Training PowerPoint >
New 2023 Agency Review Volunteer Training Video >
Application Scoring Training & Guidance Tips >
Community of Practice Flier >
Questions?
Email tccinformation@tempe.gov or call 480.858.2303.