Tempe Human Services Day 2019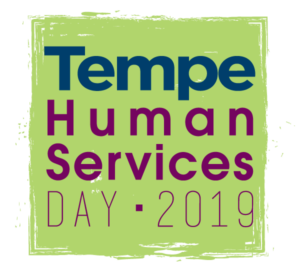 Saturday, April 6
9:00 am – 2:00 pm
Tempe Community Complex
3500 S. Rural Road, Tempe
Tempe Community Council and the City of Tempe are partnering to launch its first Tempe Human Services Day 2019.
Every day, individuals and families in Tempe are supported through a broad range of services and programs that address such areas as affordable housing, homelessness, aging, education ,crisis services and more.  
Join Tempe Community Council and the City of Tempe for a day of fun, learning and community engagement at Care Fair Tempe and the Tempe Human Services Symposium.  

Care Fair Tempe 
Get Help.  Give Help.  Be Connected.
A fun resource-filled event linking those in need with available services and those who care with volunteer opportunities.  Over 50 local nonprofits and service providers booths, low cost produce P.O.W. W.O.W. (7-11am), kid fun zone, food, music and giveaways.   
Tempe Human Services Symposium
Explore Engage Educate
The Symposium will have a series of presentations from experts in the fields of mental health and related topics such as substance dependence.  Also, learn how the City serves the community through programs, services and local partnerships.  
Ways You Can Help
More Info
Symposium – shaun_yunt@tempe.gov or 480.858.2217
Care Fair Tempe – cindy_kominska@tempe.gov or 480.858.2310