Tempe Health & Human Services Day
Tempe Health & Human Services Day
Saturday, March 16, 2024
9 am-Noon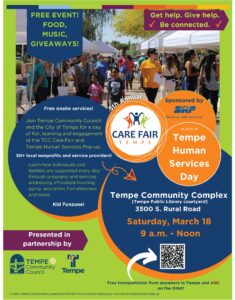 Tempe Community Complex (outdoor courtyard of Tempe Public Library and Tempe History Museum)
3500 S. Rural Road, Tempe
Tempe Community Council and the City of Tempe are partnering once again to bring together a FREE one-day community event highlighting human services in Tempe. 
Sponsored by Salt River Project, this special day is celebrated through TCC's Care Fair Tempe – a festival-like gathering providing access to over 50+ agencies offering information on their services and programs spanning a variety of needs such as homelessness, aging,  disabilities, domestic violence, addiction, youth and families, financial stability and more.  In addition, City of Tempe Community Health & Human Services has partnered to celebrate Tempe Health & Human Services Day and highlight the many services they also provide. 
We look forward to gathering again in person – hope to see you there!  
Care Fair Tempe 
Get Help.  Give Help.  Be Connected.
A fun resource-filled event linking those in need with available services and those who care with volunteer opportunities.  Visit 50+ local nonprofit and service provider booths, partake in a kid fun zone, food, music and giveaways.   
City of Tempe 
Explore Engage Educate
Visit many City of Tempe booths and learn about the free services they provide including affordable housing, early childhood learning, parenting classes, afterschool childcare, preschool and child care services!  
Ways You Can Help 
More Info
Call 480.858.2300
Email >
Thank you to our Sponsors

Traci & Tim Estenson

Jacqueline Destremps