Services for Children and Youth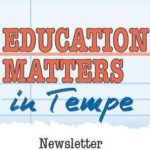 Commitment to Schools– Commitment to Schools in Tempe & Kyrene (C2S) serves as a broker of services to local public schools. We assist with identifying the needs of individual schools and locate existing community resources to help address those needs. Funds raised by the board are used to sponsor some of these services: Early Literacy, Counseling, Parent Outreach & Education, Pre-school Readiness, Health and Wellness, and Family Resource Centers.
Cinderella Affair – The Cinderella Affair is an all-volunteer project supported by Tempe Community Council, the City of Tempe and the East Valley Women's League. It is our mission to make attending prom affordable for all Phoenix-area high school junior and senior students as well as make it an event in their lives to remember. NOTE: this link will take you to a new website
Open Horizons – Open Horizons is a drop out prevention program that provides quality child care and support to teen parents in the Tempe Union High School District. Open Horizons is a community-based partnership that is funded through donations from private citizens, churches, small businesses, civic organizations and corporations. Public child care subsidies offset a large portion of the cost and student parents are responsible for a small portion of the cost of child care.
Tempe Coalition -Tempe is a community where youth have the support and resources they need to make positive choices. The mission of the Tempe Coalition is to help our youth reach their full potential by reducing underage drinking and drug use within our city.