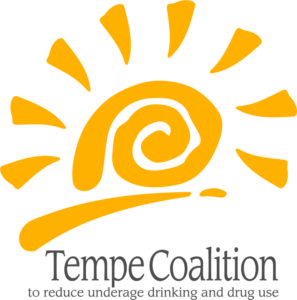 Tempe Coalition
To reduce underage drinking and drug use
Mission
To help our youth reach their full potential by reducing underage drinking and drug use within our city.
Vision
Tempe is a community where youth have the support and resources they need to make positive choices.
About
The Tempe Coalition is comprised of local residents and professionals who live and work in the community and strive to collectively improve the City of Tempe by advocating for the reduction of alcohol and drug use among Tempe youth.
The Coalition is made up of members who represent a wide range of community sectors including: business, media, law enforcement, schools, substance use providers, youth, parents, youth serving organizations, civic groups, healthcare professionals, governmental agencies and faith based organizations.
Tempe Coalition is a proud member of the Community Anti-Drug Coalitions of America (CADCA) and winner of the 2013 CADCA GOT OUTCOMES! Coalition of Excellence Milestones Award.
In partnership with Tempe Community Council, Tempe Coalition is funded by a grant from the federal Drug Free Communities Support Program.
Campaigns
As part of the grant, Tempe Coalition operates a separate website at www.tempecoalition.org.