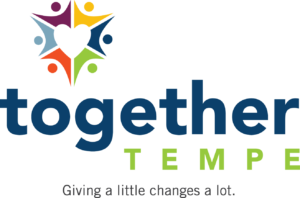 Many of our neighbors have a variety of needs.  The Tempe community is known for its compassion and strength in caring for each other.
We believe, by joining "together," all of us in Tempe can make a wave for good that keeps rippling throughout the community reaching young, old, homeless, abused, lonely, those needing a little support and those on the cusp of crisis.  Each of us need a little help at some time throughout our lives, and occasionally, some of us may need more.
4th of July Campaign

– Help us help others in Tempe!

Chances to win $100 gift card or D-Backs tix by doing one or more of the following!
Text 'TogetherTempe' to 50155 and follow prompts to donate
Like and Share our 4th of July posts on Facebook
Follow and Retweet our 4th of July tweest on Twitter
Stop by our Together Tempe booth for a FREE fan at the Kiwanis Club of Tempe 4th of July Celebration at Tempe Town Lake. Post your July 4 pics online with your fan or at our booth and #TogetherTempe and #Tempe4th.
Winners announced by July 10.  Must be at least 18 years old to win.  
WAYS TO GIVE
Donate via your Tempe utility bill by including the Together Tempe Voluntary Donation line in your payment*.
Donate online by setting up a recurring gift or make a one-time gift.
Donate by mail or call:
Together Tempe
Tempe Community Council
34 E. 7th Street
Tempe, AZ  85281
480.858.2300
*If you do not have the Together Tempe Voluntary Donation line on your water bill or wish to increase your monthly voluntary donation on your bill, please call Tempe's Customer Service at 480.350.8361.

ABOUT YOUR GIFT
Every dollar donated goes directly to a myriad of agencies providing such things as basic needs of food and shelter, but also housing assistance, prevention programs, transportation, daily living care, after school care, and more.  All monies collected by community are decided by community on where to best help meet the specific needs of those in Tempe.

HISTORY
Since 1999, Tempe has been giving.  Formerly known as Help to Others, the program name was changed to Together Tempe to better reflect its purpose.  Over the years, the community has collectively given over $1.1 million which has been distributed many agencies benefitting thousands of Tempe residents.

HOW YOUR GIFT IS DISTRIBUTED
Together Tempe dollars enhance the human services being provided in Tempe.  Each year, a citizen panel is convened to review funding requests from a variety of agencies requesting funding for the programs and services they offer many in Tempe.  The citizen review panel interviews the agencies and makes recommendations to Tempe Community Council's Board of Directors and Tempe City Council on how Together Tempe donations, combined with City of Tempe human services dollars and other funding sources are to be distributed.  To learn more about this process or become a part of the citizen review panel, see "Agency Review."