COVID-19 Coronavirus
Resources for Tempe
COVID-19 (COronavirus PANDEMIC)
In these challenging times, we are all navigating through uncharted waters for ourselves, our loved ones and our community.  TCC is working with our partners to keep you informed and up-to-date on the Coronavirus (COVID-19).  Here are some links which might be helpful:
     
Arizona 211 or call 2-1-1 for Arizona's Crisis Response Network – Sources for food, rental and utility assistance, accessing free child care and other essential services.
Centers for Disease Control – CDC – Most accurate and timely info on the COVID-19 situation in the United States about the virus, how it is spread, and how it effects people.
Arizona Department of Health Services – COVID info.
Tempe Community Council:
City of Tempe – Tempe COVID updates, variety of activities and unique resources for Tempe.
Az Law Help – COVID19 – Resource for important legal information and updates on unemployment benefits, housing, employment and more.    
Community Legal Services provides info and help offered for tenant eviction and late charges as it relates to COVID-19 and CARES Act. 
Wildfire – Provides Arizona  COVID resources on assistance for nutrition, utilities and cash, eviction relief, health insurance, and more.  
Arizona Department of Economic Security :
Pet Help – Arizona Human Society has available some resources to help with such things as veterinarian care, housing needs such as pet deposits, help with rent for those with pets, pet supplies, temporary care for those who need to relocate due to lost wages.  For more info email resourcenavigator@azhumane.org or call 602.997.7585 Ext. 3800.
Funeral Assistance Program – Limited resources are available for funeral assistance up through December 7, 2020.   Maricopa County and United Way have collaborated to help grieving families who have lost a loved one due to COVID.  For more info call 602.240.6384 or email funeralassistance@vsuw.org.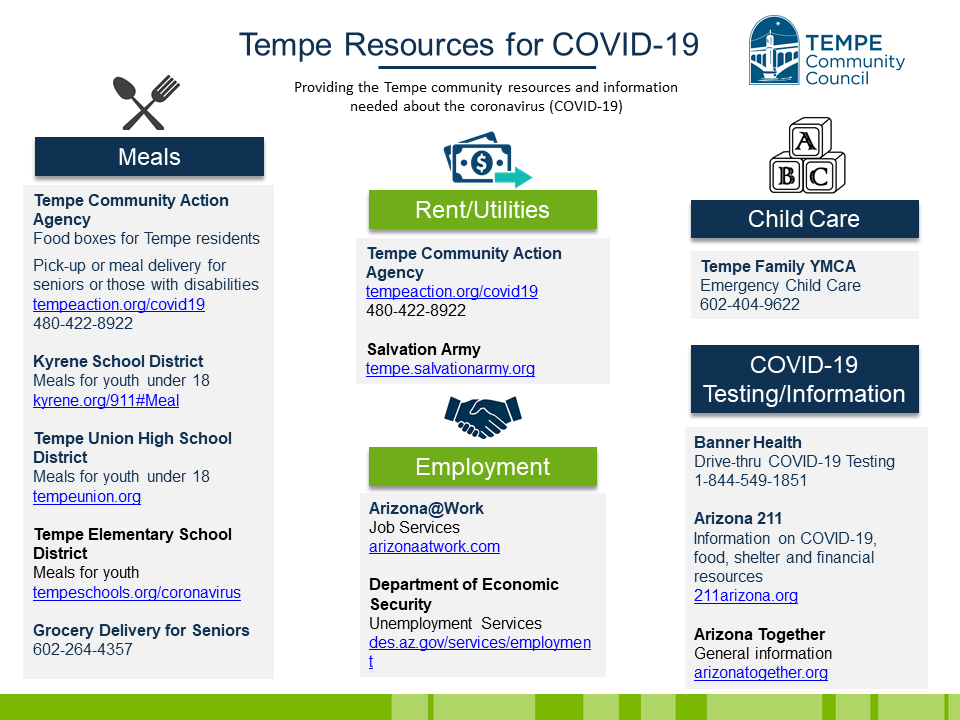 Help Your Neighbors
Want to assist Tempe community members in need?  Donations are gladly accepted and will be utilized to help your Tempe neighbors during this trying time.

Be safe, and help stop the spread of COVID-19 by following health guidelines and directives to shelter-in-place as much as possible.