Providing students items they need to attend school and be ready to learn.
Two Threadz clothes closets are available as a FREE resource for Tempe middle and high school teens from the Tempe Union, Tempe Elementary and Kyrene school districts (school ID required). Both Threadz locations carry a wide selection of new and/or gently-used items.
Want to help support Threadz?
Many items are needed to support our Threadz teen clothes closets.  
WARM WISHES HOODIE AND SOCK DRIVE – Dec 12 thru Jan 12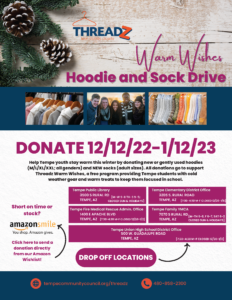 Give a little cheer to a teen this holiday season – donate hoodies and socks to benefit our Threadz teen clothes closets.  Teens are in need of special items this winter season and your gift will not only warm their bodies, but their hearts. 
Items can be purchased through our Amazon Warm Wishes holiday wish list and delivered directly to us (34 E. 7th Street, Tempe, 85281)  or be purchased anywhere and dropped off at any of the donation sites listed below. 
Drop Off Locations – (see flyer for open dates and times for each location)
Tempe Public Library, 3500 S. Rural Road, Tempe
Tempe Elementary School District Office, 3205 S. Rural Rd., Tempe
Tempe Fire Medical Rescue Admin Office, 1400 E. Apache Blvd., Tempe
Tempe Family YMCA, 7070 S. Rural Rd., Tempe
Tempe Union High School District Office, 500 W. Guadalupe Rd., Tempe
Questions? 
480.858.2300 or Email >
Amazon Wish List
For convenience and easy drop-off, checkout our Threadz Amazon Wish list for ideas.  Items can be delivered directly from Amazon to the Tempe Community Council office at 34 E. 7th Street, Tempe, AZ  85281.
Amazon e-gift cards are welcome, too, and can be sent to our email at tccinformation@tempe.gov or delivered via mail.
Did you know you could support TCC even more through your Amazon purchases?
Just sign into your Amazon account through Smile.Amazon.org.  Select "Tempe Community Council" as your charity of choice.  If you do this each time you purchase online, if you set us as your permanent charity, any purchases you make throughout the year, Amazon provides a percentage of your purchases as an Amazon charitable contribution directly to us.  An extra gift at no additional cost to you! 
Clothing & Hygiene Items
Clean Teen-Appropriate Clothing (new or gently-used) (t-shirts, in large sizes especially needed)
Shoes  (athletic and dress shoes for male teens and large sizes are especially needed)
PE/Sports Clothing (gym shorts, shirts)
Bras, Underwear, Socks (new only) (for males – men's boxer briefs preferred)
Personal Hygiene Items (shampoo, conditioner, deodorant, feminine hygiene products, etc.
School Supplies
Composition Notebooks
College-Ruled Loose Leaf Paper
Index Cards
Click-type Pens
Highlighters
3-ring Notebook Binders (plain or teen-appropriate)
Backpacks (adult/teen size to carry textbooks)
WHERE TO DROP OFF DONATIONS
Donations can be dropped off at: 
Threadz locations during operation hours, or respective school front office when open. 
Off-hours – Donations accepted at TCC Office, 34 E. 7th Street, Tempe, M-F, 8am-5pm.  No pick-ups are available.